All-terrain tyres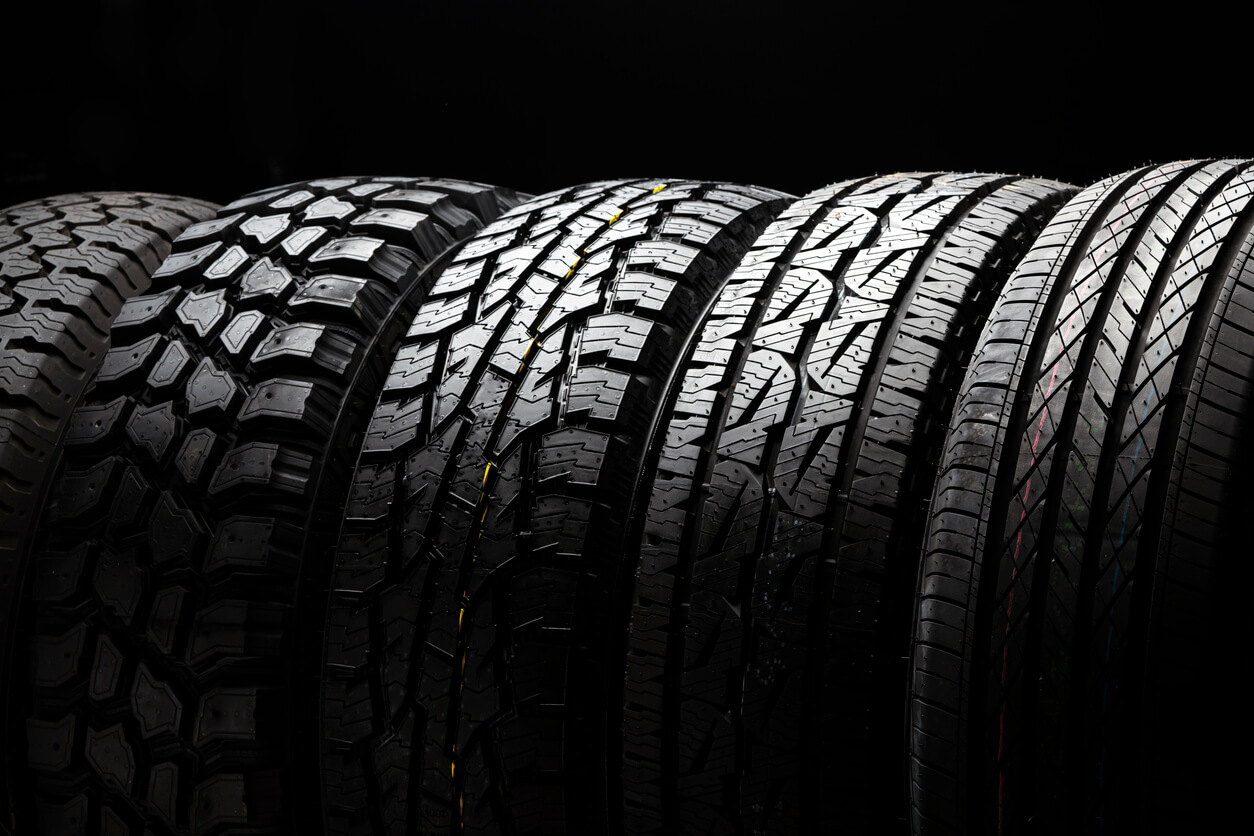 Off-road tyres refer to a type of tyre that has a deep tread pattern designed for better traction on off-road tracks, such as loose dirt, sand, mud, rock and gravel. Generally, they have deep and wide aggressive tread blocks to assist when climbing over rocks, out of muddy holes, or crawling through sand.
What is an all-terrain tyre?
Off-road tyres that are labelled "all-terrain" indicate that these types of tyres may be used both on and off-road.
All-terrain tyres try to keep a balance between grip and durability in off-road conditions and comfort on paved surfaces. Typically, modern all-terrain tyres use hybrid tread patterns and stronger compounds, which increases the wear life under mixed-surface conditions.
Key features of an all-terrain tyre
Off-road tyres generally have stronger sidewalls with thick and deep treads. On dirt surfaces, the exposed edges of the tread dig into the soft ground to create greater grip than rolling friction alone, similar to how studded shoes generate traction on the sports field.
Over rough surfaces, an AT tyre gives the most traction but on paved roads, the smaller contact patch provides less traction than your typical highway terrain tyre. Tyres with less aggressive tread blocks and a tighter tread pattern will typically perform better on the road and produce a quieter and more comfortable ride.
Some off-road tyres are designed to be used on rough terrain with low inflation pressure, lowering stiffness and allowing the tread to adhere to the ground better.
Benefits of all-terrain tyres
As their name suggests, all-terrain tyres are famous for their ability to handle a wide variety of surfaces. This is due to a combination of softer compounds, larger tread blocks and tougher sidewalls.
Therefore, these types of tyres are suitable for off-road driving, sand, and other soft terrains. They are also well-known for their long-term performance. Some of the most important characteristics of all-terrain tyres (ATTs) are:
Larger tread depth
Unique tread pattern
Aggressive Multi-Pitch
Large void areas
Comfortable ride
Talk to our experts at Tyrepower
Whether you're travelling the west coast up to Broome or on a surf trip to Margaret River, the All-Terrain tyre is the ideal choice of tyre in Western Australia.
When it comes to all-Terrain tyres, Tyrepower has a large supply on hand. With 50 locations around Western Australia, there's certain to be one near you. To talk with a tyre expert about your next pair of all-terrain tyres, call Tyrepower today on 13 51 91.